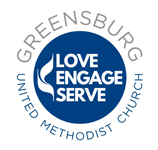 G

REENSBURG

U

NITED

M

ETHODIST

C

HURCH
Making disciples of Jesus Christ for the transformation of the world by loving, engaging and serving our neighbors.
Join us Online for Worship every Sunday morning at 10 AM by Clicking Here

---
Hello and welcome to GUMC.
Due to the Covid-19 Pandemic, we are currently not meeting for face to face worship at this time. You can, however, join us for worship, discipleship, and service through the online offerings the church has at this time. You are welcome to connect with the church at anytime and contact the pastor for more information. Hopefully, you can find direction and purpose in faith by interacting with the buttons below.
You may contact the Church office directly by calling 330-896-1936 To reach Green Good Neighbors, call 330-896-9880.



We hope we have the privilege of seeing you in person soon. Our hope is that you will experience a welcoming environment where you might consider the opportunity to grow in your relationship with Jesus and expererience fellowship and missions with all our neighbors.
In the meantime, please do not hesitate to contact us with any questions and know that we are here for you.
Our phone number is 330-896-1936 and our email is
office@greensburgumc.net.
---