About Our Worship Services
We have two worship services here at our church on Sunday mornings with Sunday School and Fellowship time in between the services.
Each sermon attempts to address two main questions: What did this Bible passage mean when it was written? What does this Bible passage mean for us today? The Pastor engages the biblical text to bring it to life while offering practical applications to work toward becoming faithful disciples of Jesus Christ.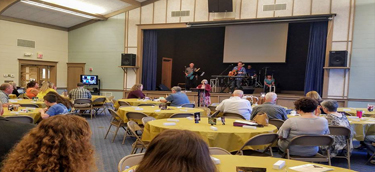 Modern Worship - 9:00 AM
Our Modern Worship Service is held in our Fellowship Hall. The praise band leads us in singing before congregational prayer and the message.
Dress is whatever you feel like wearing. But because it is outside, please take the weather in consideration. People either sit in their cars or in lawn chairs.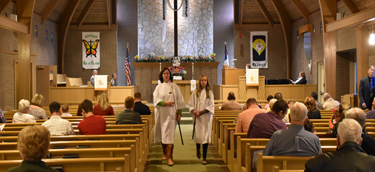 Traditional Worship - 11:00 AM
If the more formal liturgical elements like the Lord's Prayer and the Apostles' Creed help you connect with God, join us at 11am in the Sanctuary at 11am for our traditional service.
The organ accompanies hymns, and one or more of our choirs provide music for contemplation. People tend to dress more toward business or business casual, but you'll see people wearing jeans as well.
Both services include a children's message and options for fidgety children to engage their energy while participating in worship. Students 4th grade and older can learn to be an usher, while students 7th grade and higher can serve as acolytes.
After the children's message in the 11:00 service during the school year, students in kindergarten through 5th grade can go to the chapel for Junior worship. They learn by doing: serving as greeters, ushers, liturgists. They often go to room 110 for stories, videos, crafts and other hands on ways of learning the Bibles story.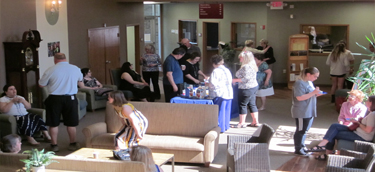 Between the two services we have our Sunday School, but there is also time for fellowship in the Gathering area
Childcare is available all morning for children from birth through kindergarten.