Youth Ministry
Finding an identity in Christ through...
Sunday School
Sundays, 10-11 am
Every Sunday morning at 10 am, teens gather to learn how to develop a worldview rooted in truth and how to form a personal relationship with Jesus Christ. Students meet in room Yes, donuts and snacks are offered.
Confirmation
Sundays, 10—11 am
This is a two-year program for youth which allows them to make a personal commitment to the Church and to God. Classes cover an extensive look at the whole Bible as well as cultural topics relevant to teens. A couple of field trips assist in the experience of Confirmation.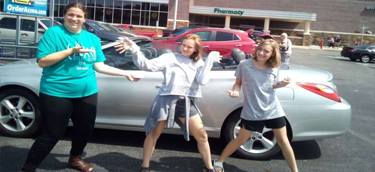 Youth Fellowship
School year Sundays, 5:00—7:00 pm
At GUMC Youth we aim to be real in our faith, have fun, and meet each person where they are, in the hopes to connect our faith with our everyday lives, through community, study, and service. Every youth can belong.
Service
Our hope is that students have an opportunity not just to learn about the world outside their own walls, but to experience it. We lead a number of service opportunities throughout the year, highlighted by our summer mission trip to Mountain T.O.P. We work closely with Green Good Neighbors, our shut-ins, and serving where the community needs assistance to help gain us a wider worldview.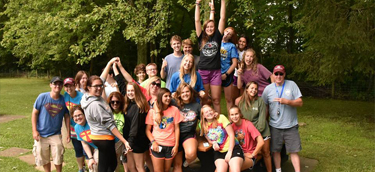 Upcoming Events
Summer is here. Adventures await us in Fellowship, Mission, and Discipleship. Here is what is coming up.
October 5th from 6 to 7:30 pm: Green Good Neighbors
Sorting and stocking from the Community Food Drive. Bring something to drink and a mask, please.
October 17th from 12:30 to 4 pm: Service Road Rally
Students will meet at McDonalds on Massillon Road to eat lunch together, team up and receive instructions, then canvas the city of Green to serve others... for points. This is a much loved event and accomplishes loving, engaging, and serving our neighbors. Teams will meet back at the church at 3:30 PM to go over their adventures and will be picked up at the church at 4:00 PM. Prizes will be awarded on Sunday, October 24 as we go over our pictures together.
October 24th from 5 to 7 pm: Pumpkin and Bonfire Night
Bring a pumpkin and a friend. We will carve pumpkins, laugh with friends, and enjoy devotion around the fire. Dinner will be hot dogs, pie, irom pizzas and smores.
November 7th from 12:30 to 4 pm: Rake & Run
Grab rakes, blowers, bags, gloves, tarps, etc to help race around Green and picking up leaves for our neighbors. Bring a sac lunch and a drink. Snacks will be provided mid run.
November 13th from 6m to 5 pm: Bed Brigade
GUMC is exploring a new ministry opportunity called the Bed Brigade. It is a ministry that provides twin beds for children without them. On November 13, a group will head down to Grove City, Ohio (near Columbus) at 6 am... YES - 6 AM.. to participate in preparing beds, sharing in lunch together, and then assisting with delivery. Students are welcome to come, but we would appreciate a parent or relative to come with them as it will be a busy day. Let Rev. Katie if you plan to attend by emailing her at
rev.katie.osier@gmail.com