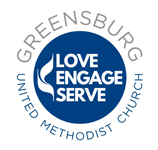 G

REENSBURG

U

NITED

M

ETHODIST

C

HURCH
Making disciples of Jesus Christ for the transformation of the world by loving, engaging and serving our neighbors.

---
Whats' Happening at GUMC


Combined Service on December 4th
On Sunday, December 4th we will have ONE Service at 10am in the Sanctuary with contemporary music. Following service there will be a luncheon in the fellowship hall. If you would like to provide your favorite dessert to share it would be appreciated. Donations for the luncheon are welcomed. Indicate on checks – Holiday Luncheon. There will be no Sunday School classes on that day.

Harmony Ringers Christmas Performances
The Harmony Ringers will be hold their "Christmas Bells" performances on the following dates:
December 3rd at Hudson UMC
December 4th at Uniontown UMC
December 11th at St. Joseph's Catholic Church in Massillon
December 17th at St. Stephen Martyr Lutheran Church in Canton
All performances are at 3:00 PM and all are welcome!

Saturday Walking Group
Come join the 9 AM Saturday Walking groupunder the portico at the office entrance. We walk local parks & metro parks during the fall hiking spree. After walking, we go to McDonald's for coffee & visiting. During bad weather we walk inside the church. Its good fun & a healthy activity. We'd love to have you join us.

Help Green Good Neighbors
Green Good Neighbors is in need of grocery gift cards. We can use Acme, ALDI, or Giant Eagle cards in the sums of $5.00, $10.00, or $25.00. Depending on the size of the family, we give $25.00, $35.00, $45.00 or $55.00. You can turn them into the office or to Pat Stiles directly. We give them out December 7, 14, and 21. Thank you for helping.

Coffee and Conversation
Join us Sunday Mornings at 10 am in Fellowship Hall for a community built around conversation, this provides an opportunity to talk with others of all ages about the scripture and lesson of the day. Bring your morning beverage with you—any one is welcome.


---