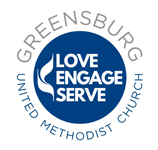 G

REENSBURG

U

NITED

M

ETHODIST

C

HURCH
Making disciples of Jesus Christ for the transformation of the world by loving, engaging and serving our neighbors.

---
Whats' Happening at GUMC


Ringers and Singers Needed
Both our Chancel and Bell Choirs are looking for people to join them. Both have lost quite a few people since the lockdown in 2020 and are looking to get back up to the pre-covid levels. If you would be interested in ringing bells or singing in the choir, we need you. The Joyful Bells practice on Wednesday evenings at 6:30 and the Chancel Choir preactices right after at 7:30. You could do both! If you would be interested, contact Brian Lawson or Betty Gross. Come make a Joyful noise!!.

Christmas Gifts For Children
There are families with children who need gifts for Christmas. If you would be willing to buy a gift or gifts for a family, please contact Pat Stiles by calling the church office. She will match you up with a family, including the age of the children, their sizes for clothes, and ideas for toys. With that information, purchase a new gift worth $25 or what ever you want to spend, wrap the gift, mark it with the label included, and bring them on Sunday, December 5 from 12 noon to 2 pm. If you need a separate time, please contact Pat Stiles.

Grocery Gift Cards Needed for Green Good Neighbors
Green Good Neighbors also supplies families with grocery gift cards in increments of $10, $20, $30, $40 and $50 from any of the local grocery stores such as Giant Eagle, Acme, or Aldi. We start distributing the grocery cards the first week in Dec through the 22. If you are able to purchase a gift card from any of those stores in any of those increments, please turn them into the Church Office or to Green Good Neighbor's Office on Wednesday morning no later than Dec. 5.

Good Neighbors Donations Needed
Green Good Neighbors needs donations if you are able to help. Items needed are Kids Jeans- sizes 4 thru 32 both girls and boys, Kids long sleeved shirtssize 4 thru 16, Underclothing- girls 4 thru 6, boys 4-6-8-10, ladies 5-6-7, men's small and medium. We also need gently used towels. Drop off your donation to Green Good Neighbors on Wednesdays 9-noon or contact Pat Stiles to make arrangements.


---