Whats' Happening at GUMC
Update From Rev. Katie
Below is a link to a feature that we are calling "High Five on Friday. Each Friday, Rev. Katie will post a video update here to share with you. To watch this weeks video update now
Click Here
Update On The Relaunch
A Congregational Survey just went out via email to households who have regularly attended in the 2019-2020 school year on July 30. Those who do not have email were called directly. The data is being analyzed and presented to the ReLaunch Team. The hope is that we can then make more concrete plans from that point forward.
You can help. Along with the preschool, the church will need hand sanitizer, Clorox wipes, D Batteries (hand soap dispensers), and masks. Since these things are limited as to the amount people can purchase, your help in getting these items for the church, and its ministries, will be a huge help. You can volunteer. This is the most crucial part to the ReLaunch—is persons stepping up to make the environment as safe as possible. Can you help by ushering, by cleaning off places after worship, by greeting people at the door? You can also help with recording the service, contacting persons who we have not seen in awhile, welcoming those who come for the first time, and so on.
In the meantime, ReLaunch has approved the use of the pavilion for small groups to meet. Group leaders will need to contact Pam Moore at the church office to set up times and have a written plan ready as to how they will manage their safety. Contact the church office if you can help.
In Person Family Dinner Live
Family Dinner Live is coming to the Greensburg UMC pavilion each Wednesday night at 6:00 pm. Each week will have its own theme and activity. They will be geared to work together as a family as well as interact with one another in friendly competition and conversation from our tables. 5 Family Spots will be available in August on a first come reservation basis, with the hope to expand in September. Each Wednesday will also go live on GUMC's Facebook page.
Families who sign up, bring a picnic dinner as well as place settings for your family. Tables will be marked with plastic coverings and name plates for your family. We ask families come masked, and when moving remain masked. While seated, masks can be removed. There will be 2 hand washing stations and sanitizer available. Please have your family use the bathroom before coming, as the bathrooms will be emergency only.
If there is inclement weather, we will cancel the in-person by noon that Wednesday, but still go live online. Those who have reservations will be notified directly. If you are unable to come for whatever reason, please go back to the sign up and make the change or notify Rev. Katie. If you have any questions, please contact Rev. Katie Osier (rev.katie.osier@gmail.com). We look forward to seeing your family! Sign up today by
Clicking Here
All families of all shapes and sizes are welcome!
Help Our High School Band
Green High Schools Marching band is beginning and with COVID-19 out there, how can we have the band play and stay safe. We are asking anyone that can sow to help our High School Band, by making bell covers for the instruments.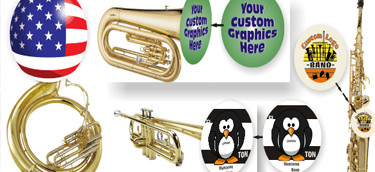 These will act as masks for the instruments and keep droplets from exiting the instrument through the bell without interfering with the sound. If you can sow and would be willing to help. Please contact the church office.