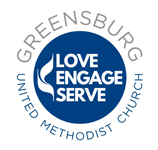 G

REENSBURG

U

NITED

M

ETHODIST

C

HURCH
Making disciples of Jesus Christ for the transformation of the world by loving, engaging and serving our neighbors.

---
Whats' Happening at GUMC


Palm Sunday Service and Luncheon
On Palm Sunday, April 2nd we will hold one combined Worship Service at 11am in the Sanctuary. A pot luck luncheon will follow thw service in Fellowship Hall. The main dish will be provided, but we ask that you bring a side or dessert to share. All are welcome.

Save The Date
The next Bed Brigade build will be Saturday, April 22nd. Time will be announceed as the date gets closer.

2023 Lawn Care Team
We are still looking for Volunteers to help cut the church grass this 2023 season! We need 6-8 people to commit so we can rotate comfortably each week through the mowing season! Mowing will begin in April. Possibly some of you have capable grown adult children who might commit to help us too. Training on the equipment and the schedule with more info will be made available to each team member. The church lawn has looked amazing each year the teams have worked so diligently.Please prayerfully consider this opportunity to serve the church. If you can help, please call the church office at 330-896-1936.

Care Team Needs Help
If a few of you with a heart for talking on the phone with anyone who may be home bound or is ill we would love to hear from you. The Care Team needs you. Also, we are in need of any information on Eileen Brumbaugh or Sarah Copeland. And lastly, Liz Brenneman needs assistance for several weeks in March and April as she will be out of commission. Please prayerfully consider these needs and call the office if you are able to help.

This Months Mission
Did you know that the Portage Lakes Career Center not only trains high school students for the work force, but also adults looking for new career pathways? The PLCC currently has an LPN training program with 33 students. Many are adults looking to better their potential position and job opportunities and are often single parents with many hardships facing them while they attend this program. The students will be taking their Board certifications in April, so, as our church's March mission, we hope to gather things to help them make April a little easier. In talking with the program director, she suggested personal hygiene items like bath and body wash, shampoo, soaps, hair clasps to pull their hair back, etc., and gift cards for food.

Our goal is to make up a small bag of items for each student with a gift card or two. Drop items in baskets outside worship areas. So you can help in a number of ways: 1. Donate hygiene items or hair ties, 2. Donate gift cards in $15 denominations to local restaurants/eateries. And/or 3. Donate money for the purchase of these items. Gift cards and money please place in offering plates. Thank you! The program director has asked me to express her gratitude to all of you for thinking of them. If you have questions, please contact the church office or Diane Oplinger

Coffee and Conversation
Join us Sunday Mornings at 10 am in Fellowship Hall for a community built around conversation, this provides an opportunity to talk with others of all ages about the scripture and lesson of the day. Bring your morning beverage with you—any one is welcome.


---