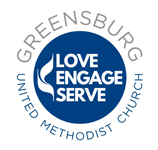 G

REENSBURG

U

NITED

M

ETHODIST

C

HURCH
Making disciples of Jesus Christ for the transformation of the world by loving, engaging and serving our neighbors.

---
Whats' Happening at GUMC
Christmas Eve Services
We will have three Christmas Eve services on December 24th. The first will be our Contemporary Service in Fellowship Hall ay 10 am. We will have carrolls cookies and cocoa. Then that evening we will have two candlelight services at 7pm and 11pm in the Sanctuary. Come join is as we celebrate Jesus' birth.
Youth Coordinator Needed
Our children's ministry is growing so much that we need to prepare for them as they grow older and fill a need for the special youth that are here now. We have a job opening for a Coordinator Youth Ministries (ages 7th – 12th graders). For the complete job description
Click Here.
Please forward to anyone you know that might be interested or just pray for some great candidates
Choir Needs Your Voice
Our choir has started a new season. It has been a struggle the last few years since covid as we have lost quite a few choir members for various reasons. We are in need of more voices. So, if you like to sing and you've thought about joining us at one time or another, its still not too late!
All you need is a desire to sing. So if you sing in the shower, or sing in the car, come sing for the Lord. See our Choir Director Brian Lawson with any questions or you can call him at 330-256-3462 or shoot an email to brian.lawson@greensburgumc.net. Please consider joining us in making a joyful noise through music!
Coffee and Conversation
Join us Sunday Mornings at 10 am in Fellowship Hall for a community built around conversation, this provides an opportunity to talk with others of all ages about the scripture and lesson of the day. Bring your morning beverage with you—any one is welcome.
---