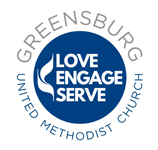 G

REENSBURG

U

NITED

M

ETHODIST

C

HURCH
Making disciples of Jesus Christ for the transformation of the world by loving, engaging and serving our neighbors.

---
Whats' Happening at GUMC


Indoor Worship
The Relaunch Committee has been working very hard to make sure the services are as safe as possible for everyone. We would like to bring to your attention the following. PLEASE wear a mask. If you don't have one or forget one we will have disposable ones as you come into the Fellowship Hall.
If you are not feeling well, please stay home and watch the livestreaming on this website from the comfort of your home.
Please do not congregate in the hallways. Go directly to your seat. There will be ushers there to assist you.
All of the chairs and high touch areas will be sanitized prior to the service. We will have cleaning supplies on hand if anything needs additional attention.
Please do not bring any food or beverages into the service. Drinking or eating will require you to remove your mask and we are attempting to keep our congregation as safe as possible.
We ask that you sit with people from your household. We will adhere to social distancing recommendations.
10am Fellowship Hall Service - ONLY enter through the door at the back closest to Pastor Katie's office. There will be people outside to direct you to the correct door.
11am Traditional Service - ONLY enter through the main double doors closest to the Sanctuary. Be sure to pick up your self contained communion elements at the Sanitization Stations outside the service areas to be used during service. There will NOT be child care available.

A Good Time To Update
This pandemic has created us to do things a bit different, but to find a silver lining in it, there seems to be a lot of people "cleaning house!" Possibly your house cleaning looks like downsizing material things or maybe even the best landscaping your yard has seen in a long time! No matter we all need to take advantage of the time we are given and use it wisely.

Here at the church it is always nice to do some of our own house cleaning too. One way, we are wanting to keep our records and information up to date. If you have a new phone number, email address or even decided you want added to the Birthday and Anniversary lists we want to hear from you. In addition, we need current information on all the post high college students mailing addresses and college or university information also! Please take time today to share with us your updated information so we may continue to communicate with you clearly, efficiently and compassionately too. Let's keep our houses in order and include The church in that process too. You can email Pam at pam.moore@greensburgumc.net or call the church office at 330.896.1936.

Christmas Is Coming To Green Good Neighbors
Letters have gone out to the parents of children that have been to our unit this year with their deadline to submit a request is Wednesday, October 28th. We are asking anyone in the congregation that would like to buy some Christmas cheer for a child to call me Pat Syiles and she will give you a name and some gift suggestions for the child. All wrapped gifts need to be in by Sunday, December 6th between noon and 2pm. If you do not want to shop and wrap we will accept cash gift cards for our volunteers to shop for you.

We will be giving out family grocery cards for their Christmas dinner in the month of December. We could use donated gift cards from Acme, Giant Eagle or other grocery stores in our area. We distribute food gift cards in ten dollar increments based on the size of their family. Since we are using the gym for the clothing room every Wednesday, it means we do not have an area to set up for the parents to come and pick up Christmas gifts for their children this year. So, your donations will be extra appreciated this year! Parents will remain in their cars for pick up and we will load their gifts into their car for them.
---