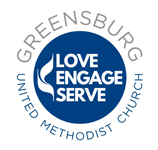 G

REENSBURG

U

NITED

M

ETHODIST

C

HURCH
Making disciples of Jesus Christ for the transformation of the world by loving, engaging and serving our neighbors.

---
Whats' Happening at GUMC


Relaunch Team Update
Everyone is asking – even your pastor: when will we return to in person? The answer is in reach, but still unknown. The Relaunch team will be meeting in January to determine the date and how worship will move indoors. Do not lose hope.

There is still a more important question to be answered beyond worship: how will Greensburg UMC reach out to its neighbors to invite them to know Jesus Christ – through worship, through love, through working together in service? This unprecedented season has placed those who come to GUMC in a prime spot to live the mission and vision differently. As the world starts to return to a new normal, the church needs to hone its outreach and care – offering the love of Jesus Christ intentionally and openly.

Please hold this in your prayers and listen – listen to what God has to say about God's mission in Green, New Franklin, Clinton, Uniontown, Barberton, Canal Fulton, Canton, North Canton, Akron, and Hartville. Then, may the church respond – "And now, O glorious and blessed God, Father, Son, and Holy Spirit, thou art mine, and I am thine. So be it. And the covenant which I have made on earth, let it be ratified in heaven. Amen."

Student Ministry Update
Starting Wednesday, January 13 at 7 PM, our group began meeting online. The zoom meeting ID is 829 2413 8941. Look in your email and your Reminders for the password. The hope is to meet regularly on Wednesdays, and also start to plan safe in person meetings as time moves forward. Student Ministry leaders cannot wait to see you Wednesday, January 13!!!

A Good Time To Update
This pandemic has created us to do things a bit different, but to find a silver lining in it, there seems to be a lot of people "cleaning house!" Possibly your house cleaning looks like downsizing material things or maybe even the best landscaping your yard has seen in a long time! No matter we all need to take advantage of the time we are given and use it wisely.

Here at the church it is always nice to do some of our own house cleaning too. One way, we are wanting to keep our records and information up to date. If you have a new phone number, email address or even decided you want added to the Birthday and Anniversary lists we want to hear from you. In addition, we need current information on all the post high college students mailing addresses and college or university information also! Please take time today to share with us your updated information so we may continue to communicate with you clearly, efficiently and compassionately too. Let's keep our houses in order and include The church in that process too. You can email Pam at pam.moore@greensburgumc.net or call the church office at 330.896.1936.


---