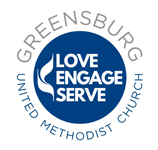 G

REENSBURG

U

NITED

M

ETHODIST

C

HURCH
Making disciples of Jesus Christ for the transformation of the world by loving, engaging and serving our neighbors.

---
Whats' Happening at GUMC


Missions
Each month we will have a mission focus for our church to learn about and participate in. January begins this journey with Akron Children's NICU. Saturday, January 29 from 1:00 to 4:00 pm, you are invited to bring family and friends, along with your sewing gear to help create layettes and blankets for the NICU. This help premies and their parents as they await the promised day to head home.We will also have a movie during that time, to help our work along.

There are three ways you can exercise your resources to participate in this mission. You can do one or two or all three.
WALK: Pray for the families and children who will receive these blankets and layettes at Akron Children's Hospital.
JOG: Donate funds or fabric. Checks can be made out to Greensburg UMC, with the note Blankets. Fabric needed: cotton or flannel—:1 ¼ Yards, at least 45 inch wide AND fleece- 1 ½ Yards (avg width is 59"), 2 ½ Yards (avg width is 59") . Please wash ahead of time.
RUN: Bring your sewing gear—from scissors to machines—and join in the fun in making layettes and blankets while watching a movie with friends and family. Help teach a youngster a new skill. Show off your talents. Bring hope and joy to families where hope is small. Blankets and Layettes will be dedicated during worship on January 30, and delivered later that wee

Coffee and Conversation
As community built around conversation, this provides an opportunity to talk with others of all ages about the scripture and lesson of the day. It is held at 10 am Sunday mornings between our two services. Bring your morning beverage with you—any one is welcome. There are 2 ways to connect: Online via Zoom - Meeting ID 892 6692 8296 Password - 977418 orThe group meets in the Fellowship Hall, inside the church. Masks and distancing are strongly encouraged while indoors. Join us either in person or online.

Ringers and Singers Needed
Both our Chancel and Bell Choirs are looking for people to join them. Both have lost quite a few people since the lockdown in 2020 and are looking to get back up to the pre-covid levels. If you would be interested in ringing bells or singing in the choir, we need you. The Joyful Bells practice on Wednesday evenings at 6:30 and the Chancel Choir practices right after at 7:30. You could do both! If you would be interested, contact Brian Lawson or Betty Gross. Come make a Joyful noise!!.


---