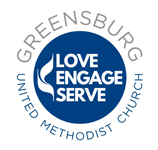 G

REENSBURG

U

NITED

M

ETHODIST

C

HURCH
Making disciples of Jesus Christ for the transformation of the world by loving, engaging and serving our neighbors.

---
Whats' Happening at GUMC


Fri-Yay Drive In Movies
On Fridays June 18 and August 20, from 7:30 - 10:00 PM, we will be hosting Drive-In Movies in the Parking Lot. Can you picture it? People in their cars or in chairs nearby, snacks, drinks, laughter in the air? The movie for Friday, June 18th will be Disney's "The Emperors New Groove" What a wonderful, fun couple of nights this will be! Please come and join us and bring friends. This even is open to the entire community!

Vacation Bible School 2021
Thank you to Lyndsay and Josh Dimengo for stepping up and leading this year's theme: Hometown Nazareth, Where Jesus was a Kid. Work is underway to see about the potential for an in person VBS July 18th - 22nd from 6-8 pm with protocols in place. This means additional volunteers will be needed this year to help keep places clean and lead smaller groups. If you would like to volunteer or know more, please contact the church office.

Choir Hoping to Return This Fall
As long as the covid numbers continue to drop as they have been, our Chancel Choir is hoping to return in September after being silenced for a year and a half. The plan is to begin practices again the first Wednesday after Labor Day, September 8th.

Naturally we hope that all of our choir members will be able to return, but even if they do we still are in need of voices. If you sang in the choir in the past, or if you've thought about it, or if you just like to sing, we need you! In order to sing 4 and 5 part harmony as we have done in years past, we need a full complement of voices. All ranges are needed.

Please, if you like to sing and would be willing to lend your vocal talents to our choir, contact our Choir Director, Brian Lawson, either by email at brian.lawson@greensburgumc.net, by phone at 330-256-3462, or in person before or after the 11:00 service. All are welcome. All you need is a desire to sing. Please consider joining us as we resume singing our praises to the Lord!!


---