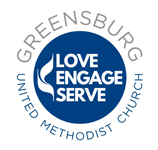 Greensburg United Methodist Church
Making disciples of Jesus Christ for the transformation of the world by loving, engaging and serving our neighbors.
There is only one service this week at 10:00 am. It will be streamed on both options below.
---
Pick Your Service
We offer two Worship Services here at Greensburg for you to choose from
Modern Worship Service
Our Modern Service is at 9am and is held in our Fellowship Hall.
Our praise band leads us in contemporary Christian music before the congregational prayer and the message


Traditional Worship Service
If the more formal liturgical elements like the Lord's Prayer and the Apostles' Creed help you connect with God, join us for our traditional service. The organ accompanies hymns, and special soloists, groups, or one of our choirs provide music for contemplation.
This service is at 11:00 am in our Sanctuary.
Each sermon attempts to address two main questions: What did this Bible passage mean when it was written? What does this Bible passage mean for us today? Rev. Katie engages the biblical text to bring it to life while offering practical applications to work toward becoming faithful disciples of Jesus Christ.
---