Sunday School
Due to COVID-19 we recommend contacting the church office about any events listed on this page for the latest information and any changes.
Our Sunday School programs are immersed in friendship and Christian fellowship serving all ages from the very young to people in their 80's and 90's. Adult classes have no age boundries, but do gather around focal points and life experiences.
Many things change across the decades, but the constants of faith, family, friends and fellowship remain ever present in our Sunday School programs and bless the lives of our participants. We welcome you to join us in our journey to make disciples of Jesus Christ for the transformation of the world. Below are a few of our classes.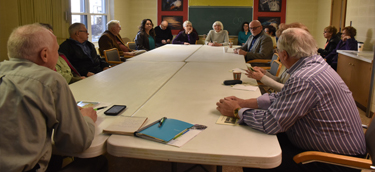 Pathfinders- Room: Library
This is an adult group of men and women who like to read and study the Bible. Knowledge of the Bible is not required for attendance, but we have open discussions of the meaning and application of the lesson to our lives today.
Home Improvement Class - Room: 110
"If I had known that raising kids was this easy, I would have started sooner". No one has ever said that - ever, unless they wanted a laugh. That's what happens in this class. We talk about the joys and the trials of family life, we share experiences and we laugh a whole lot. Geared toward parents still raising children, this class focuses on real life experiences shared in the context of Christian grace and are engaging and reassuring. Knowing busy parent life, come once a month, twice a month or every week and you'll feel right at home.
Seeking Focus - Room: 105
This class meets to read and study the Bible. We try to stay on topic as we dig into the original context of a scripture for life today. We strive to be a Sunday School home for young adults, but we welcome people of all ages inculding High School students.
Friendship Class - Room: 107
This class is taught by four different facilitators, one each week leading class and the discussion. We use many materials from the United Methodist Media Center or download from the internet those which provide a video speaker or lesson on subjects realating to current life and living a better Christian life.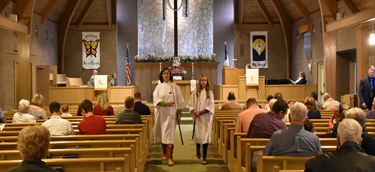 Confirmation Class - Room: 108
Confirmation students learn about Bible structure, Judeo-Christian timeline/history and the significant people that influence our faith. The main topics of study are faith, sacrifice and our religious holidays. High School students have the chance to use their gifts in the classroom setting with the children's ministry or join the Seeking Focus class to continue their faith development with young adult peers.
The Nursery is open for children ages newborn to two years old all morning on Sundays. Preschool care is also available for ages three to kindergarten.
For more information on our various Sunday School classes, feel free to call the church office at 330-896-1936 or send an email to
office@greensburgumc.net.